We offer 5 Deluxe Family traditional Moroccan styled Suites, and 8 standard rooms. All rooms feature en-suite bathrooms with showers and a private terrace, complimentary WiFi, Air-conditioning and much more; The rooms display traditional Moroccan decor with Zellige tiling, with a variety of stylish interiors with hand-crafted furniture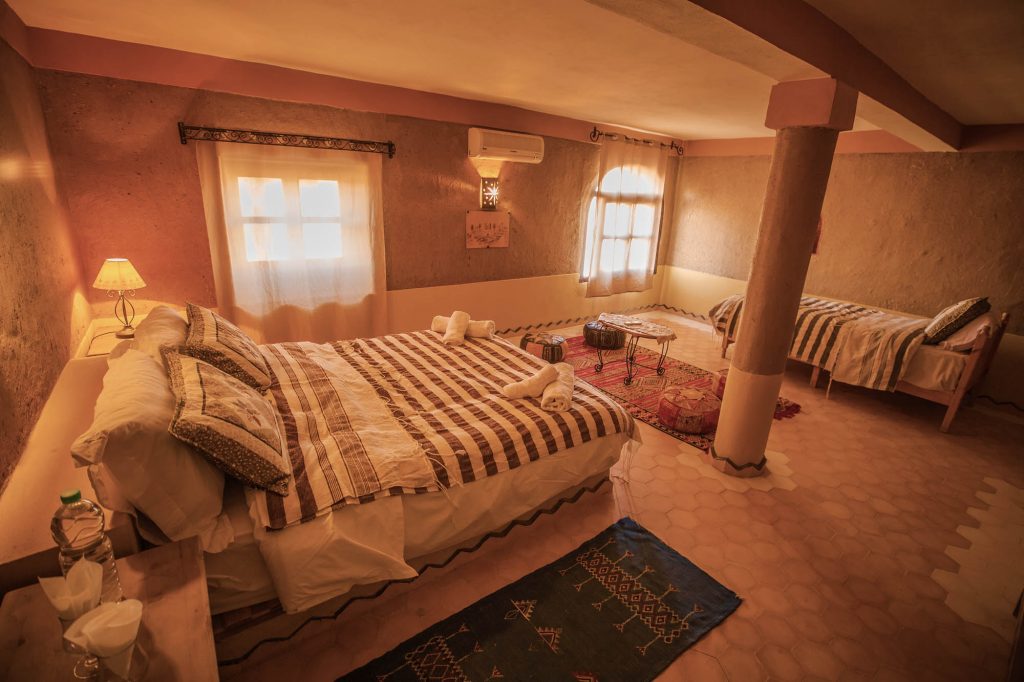 Our Family Suites feature the Moroccan traditional adobe houses decor from the southern Morocco theme, with stylish modern touch-ups and generous space for relaxing on Sahara view or while stargazing; The suites are connected to a separate room which can also be converted to a lounge area with a private terrace – perfect for families.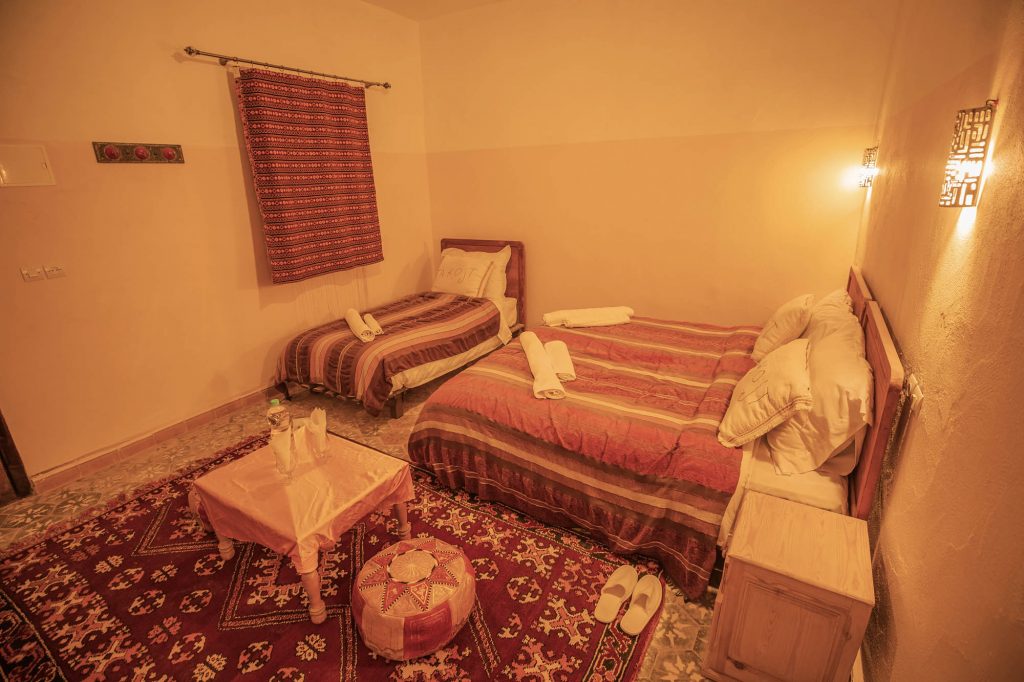 Our standard rooms are ideal for those who want to enjoy a basic but cozy room; They are either single, double or twin, a triple or a quadruple, furnished in a range of traditional and authentic Berber styles to make you feel really at home, but in the Sahara. All bedrooms have en-suite bathrooms, and a common terrace over looking the dunes.
  Pets are accepted
  Check-in : 12 AM
  Check-out : 11 AM – 12 AM
  Barbecue
 Shared lounge
  WiFi available for free
  Opened 24 hours
  Luggage storage
 Caretaker's lodge
  Garden
  Laundry facilities
  Non smoking
  Bar
  Patio
  Private parking free
  Rates are quoted per person per night and include meal plans as set out on the rate sheets below.

  Rates quoted are valid for Individual Travel.

  The rate is on Half-board basis (The room rate includes dinner & Breakfast)

  Rates are however guaranteed and NOT subject to change once reservation made is fully confirmed by submitting full payment for BB or DBB Rates confirmed for entire length of stay reserved.

  Rates doesn't include VAT at 15%.

  Rates include Tourism Levy at 2% for BB rates and at 1% for DBB rates.

  Should VAT and/or Tourism Levies change during the above validity period, rates quoted could be revised accordingly.